Petrobras Extends Contract with Transocean for Deepwater Corcovado and Mykonos
Transocean Ltd. (RIG) announced on November 18 that Petrobras extended its contract for the Deepwater Corcovado and Deepwater Mykonos. The Deepwater Corcovado has a 680-day preexisting fixed option, and the Deepwater Mykonos had an 815-day preexisting fixed price option. Together, the contract extensions are worth around $297 million. Transocean is a leader in offshore contract drilling services for oil and gas wells.
Sonal issued an alert at 4:16 pm. The next trade took place at 4:20 pm for $1.25. Transocean's stock price increased following the market open the next day, and the gains continued for the next four trading sessions. Transocean closed at $2.17 on November 25 for a gain of 66% over a 5-day trading period.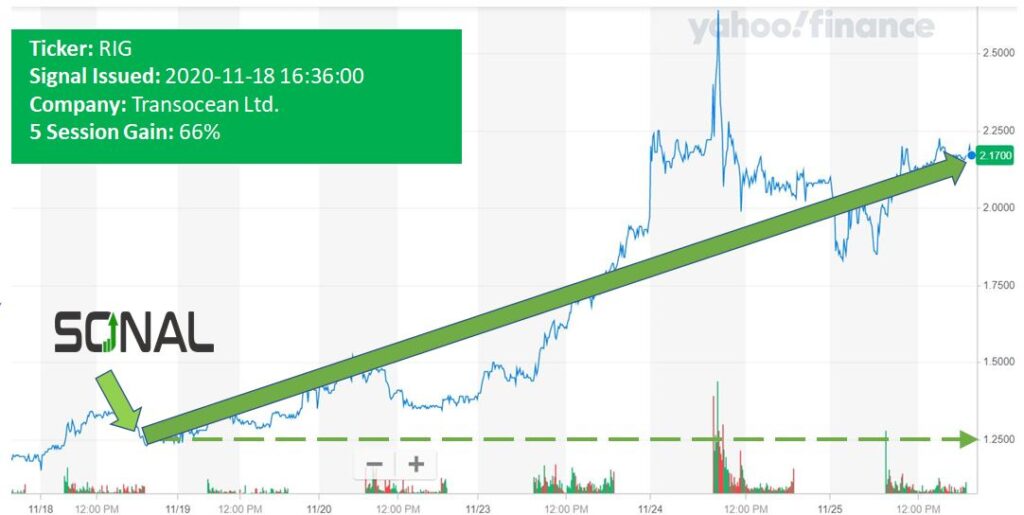 Visit the Knowledge Center for more information about trading contract awards.
To see the latest weekly webinar, you can visit our Live Webinar page.
Subscribe here if you would like to start receiving these signals in real-time and start trading!